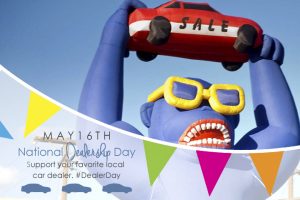 National Dealership Day is Here!
Today is National Dealership Day #dealerday, and we invite you to celebrate with us! It's another reason for dealers to offer great incentives, in-store promotions, and sales to customers willing to make a purchase on May 16th. For customers, what a better way to save and buy from your favorite dealership. To help make your day of celebration a bit easier, we made FREE campaign photos for you to download and share on social media or use in emails. Think of this day as one more way of attracting customers to your showroom! What a great way to promote yourself and your dealership! Happy selling!
Interested in learning more? Take a look at us Live on Facebook.